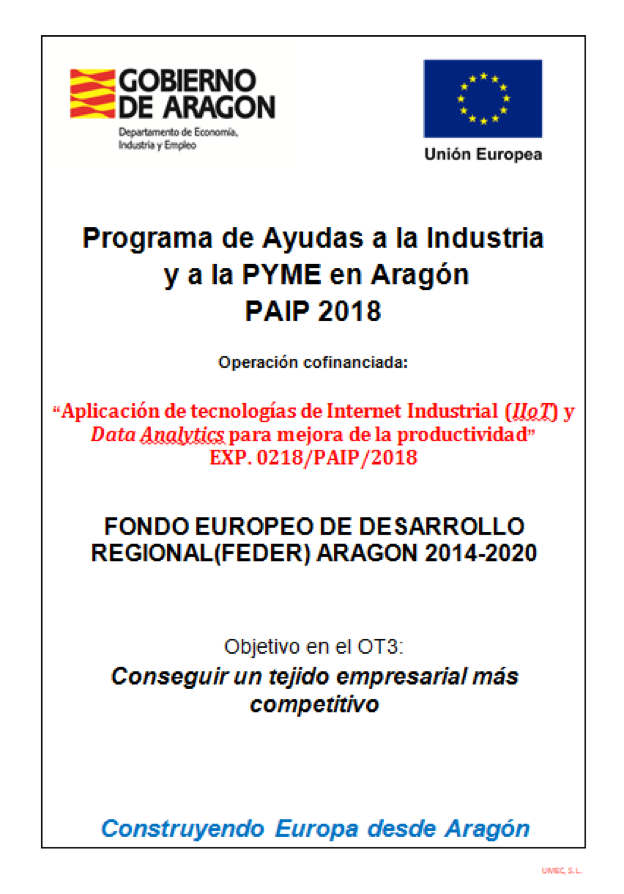 Thematic Objective (OT)3. IMPROVE THE COMPETITIVENESS OF SMEs
Investment Priority (PI)3D. Support for SMEs' ability to grow in regional, national and international markets and to be involved in innovation processes.
Specific Objective (OE) 3.4.1. Promote the growth and consolidation of SMEs, in particular by improving their financing, technology and access to advanced support services.
Action AP01 "Incentives for industrial competitiveness and SMEs in Aragon"
Project Description: Implementation and integration of Industrial Internet (IIoT) and Data Analytics technologies to increase the productivity of UMEC. Specifically, the measurement of the OEE in real time to determine the overall efficiency of the machines (availability, performance, quality), while recording the causes that penalize said OEE to implement corrective measures APPLICATION OF INTERNET TECHNOLOGIES (IToT) AND DATA ANALYTICS FOR IMPROVING PRODUCTIVITY.